From the UFC, Major League Baseball and F1 racing to Springbok rugby and European football giants, crypto exchanges' sponsorship of Big Sport is changing the game for crypto mass adoption and leveling the playing field for crypto's image rehabilitation. 
If you follow sports, chances are you may have seen some unlikely crypto-related sponsorships pop up from time to time. With 2022's Beijing Olympics set to feature China's controversial new e-yuan quite prominently, it's no secret anymore that the worlds of sports and cryptocurrencies are actively courting each other.
This is certainly a far cry from the days where crypto and sports would only intersect through a Litecoin-plugging tweet from Ben Askren or when that Floyd Mayweather ICO scam and lawsuit hit headlines again.
This new sports-crypto love affair is hardly a real surprise. In a world where nearly all physical sports events were sidelined by the raging Covid pandemic for a year or longer, resulting in massive financial losses, the cryptocurrency industry's meteoric rise and popularity with the millenial demographic made it the ideal new match for sports teams desperate for new sponsors to fill up their empty coffers again.
Not only are sports teams, athletes, and brands forming partnerships with companies in the cryptocurrency space and accepting cryptocurrencies such as Bitcoin, Ethereum, and even Dogecoin as payments or sponsorship, they're also actively promoting cryptocurrency and investigating their use cases as part of their core business models.
Success stories like NBA Top Shot have made it clear to sports industries that the demand exists among their youthful demographic for digital asset ownership.
In 2021, several of the world's biggest sports brands and companies have joined forces with crypto exchanges and companies in the form of multi-million sponsorships, strategic partnerships, and other marketing-related activities. These deals would have been unthinkable only a year or two ago, but are now very common thanks to crypto's rehabilitated reputation, improved regulatory clarity, and the massive mainstream potential that new sectors like DeFi and NFTs offer.
Here are 7 of the biggest sports crypto partnerships in the world right now.
1) MMA: UFC and Crypto.com Bump Fists on Sponsorship Deal
Another landmark example is the partnership between the UFC and Crypto.com. The crypto platform became the first global "Official Fight Kit Partner." This deal has given Crypto.com the right to place its branding on UFC kits worn by athletes competing in UFC events and significantly increases the company's exposure to new customers.
The partnership doesn't end at logo placements. Crypto.com will also have a branded presence inside the Octagon during pay-per-view events and during Dana White's Contender Series. The crypto company will also be heavily integrated into UFC's content on both digital and physical platforms.
This sponsorship is important because it demonstrates how much cryptocurrency companies want mainstream adoption. Sports teams are perfect for this purpose as they are already popular and have wide, highly engaged, fan bases.
2) Baseball: MLB and FTX Hit It Out the Park
Crypto exchange FTX, which has enjoyed stellar growth in the last few years under the direction of wunderkind CEO Sam Bankman-Fried, announced in June 2021, soon after the unveiling of their Miami Heat-sponsored FTX Arena and the $210m naming rights agreement with esports team TSM, that FTX.US had signed a deal with Major League Baseball to become the "Official Cryptocurrency Exchange brand of MLB"
As part of the MLB sponsorship, all umpire uniforms began to sport the FTX logo as its "first-ever umpire uniform patch partner" since its July 13th MLB All-Star Game, and this will continue for regular season, Postseason, Spring Training and Jewel Event games
FTX.US also signed an agreement with MLB Players Inc., a subsidiary of the MLB Players Association that manages all of the commercial activities for the organization. FTX will have group player rights, which allows the organization to use highlights of players in content creation. FTX and MLB will announce additional partnership activation details at a later date.
3) Rugby: World Champs South Africa Tries Luno
One of the more recent examples of this is the partnership between crypto app Luno and the world's number 1 rugby team, South Africa's Springboks and its coach, Rassie Erasmus, who are riding high after their 2019 World Cup triumph in Japan as well as their 2021 series win over the British and Irish Lions. Promotional videos displayed during their test matches has Erasmus humorously demonstrate to a South African user how he can use Luno to more easily navigate the often confusing world of cryptocurrency exchanges.
This is an excellent example of a cryptocurrency company using the popularity of a sports store to spread a positive message about the crypto space, something sorely needed at the moment.
4) Football: Socios Helps European Soccer Back on Its Feet
After decades of an iconic sponsorship with tiremaker Pirelli, legendary Italian football team Inter Milan will be trading the track for the blockchain in another sign of the times, when the black and blue stripes of Inter's jersey will be adorned with the logo of crypto exchange Socios for an undisclosed sum. It is estimated that European football clubs have missed out on over 9 billion Euros due to the pandemic, and many remain on the brink of bankruptcy.
Socios are the creators of the innovative new Chiliz cryptocurrency, which supporters can purchase and use to gain access to special team rewards, rights and promotions. Socios not only sponsors Inter Milan, but has taken the whole European football industry by storm, signing token sponsorships and partnerships with the likes of AC Milan, FC Barcelona, Arsenal, Manchester City, Paris Saint-Germain, Atletico Madrid and Juventus. It has officially partnered with 19 teams and held official "fan token offerings" for 11 of them. Socios is planning to branch out into more real world sports as well as esports.
It was announced on 12 August in another industry first that new PSG arrival Lionel Messi, arguably the world's most skilled and favorite soccer player, would be receiving a large number of $PSG Fan Tokens in his welcome package.
5) Football: AC Milan Kicks It with BitMEX Exchange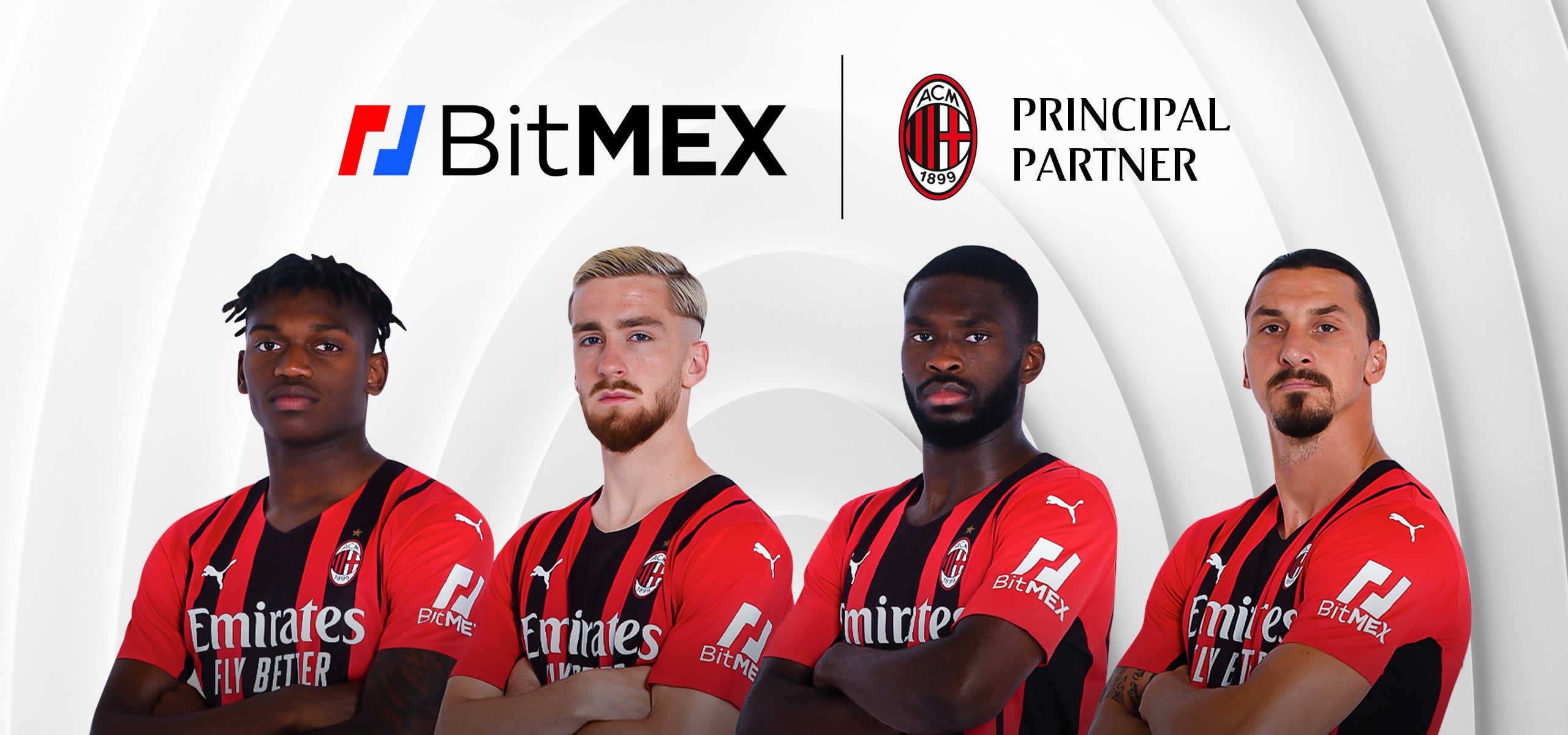 Not to be outdone by their eternal rivals Inter Milan, Italian football kings AC Milan recently signed a massive deal with derivatives pioneers BitMEX exchange, who finally settled with the CFTC and FinCEN for $100 million after a protracted compliance drama.
The long-term partnership agreement will result in the displaying of the logo of BitMEX on AC Milan's jerseys. As part of the lucrative sponsorship deal, BitMEX will become AC Milan's first 'official sleeve' partner as crypto trading partner and likely collaborate with their marketing team to come up with fresh new ways of creating revenue for the Rossoneri.
6) Motorsports: F1 and Crypto.com Ride Or Die Together
In June 2021 another sport severely impacted by the Covid pandemic, Formula 1 announced that it had signed a deal with Crypto.com as an inaugural partner of the F1 Sprint series for $100 million.
F1 executives were gushing over the crypto exchange, noting their interest in cryptocurrency and the expertise that Crypto.com would provide them:
"We are thrilled to announce Crypto.com as a Global Partner and lead partner of the Sprint event…We will rely heavily on their expertise as we explore the world of cryptocurrency, an area we are very interested in… Crypto.com are revered in the industry and their experience was key in the decision to partner with them, as well as the company's commitment to becoming carbon negative, as we continue to move towards sustainability goals of our own."
7) Coinbase Levels Up with ESL Gaming
In July 2021, leading U.S. exchange Coinbase announced a massive partnership with ESL Gaming, the latest in a series of partnerships designed to target esports audiences. The ESL Gaming sponsorship deal will see Coinbase, which also listed its IPO this year, become the official exchange partner for a number of major ESL events from 2021 to 2022 and beyond.
Crypto and Sports Are a Match Made in Heaven
With NFTs beginning to permeate each marketing angle of sports and fan tokens becoming more popular and useful, it's clear that we will continue to see crypto companies sponsor sports teams and see those same teams adopt cryptocurrency-based solutions. These partnerships could lead to a future where fans have more impact on their teams' peripheral decisions. It could also unlock significantly more funds for sports teams and athletes alike.
These sports partnerships are also vital for the crypto industry's continued mass adoption, as it normalizes the ownership and usage of cryptocurrency. Fan tokens such as those by Chiliz and of course NFT collectibles showcase the massive potential that digital assets have to revitalize the intellectual property and iconic branding of sports teams. It provides a much-needed mutually beneficial partnership between these two industries that should make for epic viewing for years to come. bi