Happy 2021! Today, 3 January, is one of the most important days of the year for the crypto community. This day is annually celebrated as Bitcoin's unofficial birthday. The 2021 edition is considered Bitcoin's 12th birthday and comes as Bitcoin hit historic new highs amidst unprecedented global socio-economic and political turmoil.
With the world economy currently being ravaged by a global pandemic and the price of Bitcoin skyrocketing to nearly $35,000 in the last few days due to a myriad of reasons, there's never been a more important time to revisit these questions for more experienced cryptocurrency investors as well.
But what led to the creation of Bitcoin and why is it important? If you're new to crypto, this is one origin story that you must know.
2008 Financial crisis
The 2008 financial crisis was the worst economic disaster since the Great Depression of 1929 and resulted in the Great Recession, which caused housing prices to plunge more than than the famous 20th-century market crash. Scarily, it pales in comparison to the Covid-19 pandemic fallout.
The 2008 crisis came about due to to the irresponsible behavior of U.S. banks taking unchecked risks, the U.S. housing bubble finally popping, which caused a chain reaction of destroying the values of securities connected with U.S. housing to crash, thereby taking giant financial institutions down with them such as Lehman Brothers and Fanny Mae.
With several other banks destined to fail as well, the U.S. government finally stepped in and bailed them out. JP Morgan, Citigroup,Morgan Stanley, and Bank of America received a combined $75 billion in bailout money from U.S. authorities, despite being to blame for the financial crash, which resulted in the foreclosure of tens of thousands of U.S. residential properties and put the families who lived in them out on the streets.
Movies like Margin Call and The Big Short portray the cause and unfolding of this event very accurately and are worth a watch.
The great financial meltdown of 2008 brought home one truth for many: that the global financial system was broken. We were not in control of our money, but pawns in a larger game. Governments and other entities could also monitor our transactions and take away our freedom to manage our own assets at any given time.
For one mysterious person (or group?) called Satoshi Nakamoto and other cypherpunks, there had to be a better way to circumvent the influence of the defunct financial world today.
The result was Bitcoin: a decentralized digital asset that is not controlled by any central government or financial middleman. And beyond being just a safe haven for our assets, it has also shown us another truth: achieving monetary sovereignty is not impossible.
A Brief History of Bitcoin's Genesis
While the global economy was teetering from the global financial crisis in 2008, Satoshi Nakamoto, an anonymous online entity, introduced the first cryptocurrency to the world: Bitcoin.
On the 18th of August 2008, Bitcoin first surfaced on the face of the internet via the domain registration of bitcoin.org.
Then, on the 31st of October that same year, Satoshi sent a message entitled "Bitcoin P2P e-cash paper" to a cryptography mailing list. The message linked to the whitepaper named "Bitcoin: A Peer-to-Peer Electronic Cash System."
Satoshi's Vision for a Digital Currency
The Bitcoin white paper outlined Satoshi's plan for Bitcoin as a decentralized currency, which meant that there is no central authority to supervise and control the transactions made between its users.
To maintain the integrity of the transactions, Satoshi came up with a plan to launch a public ledger that is distributed to thousands of online devices. This ledger was meant to contain a record of all the transactions made within the network, which became known as the 'blockchain.'
The Genesis of Bitcoin: Block 0
On the 3rd of January 2009, at exactly 18:15:05 UTC on January 3rd 2009 Bitcoin's first block was mined and blockchain history started, forever changing the face of digital assets. Bitcoin's first birth to the first block of the blockchain was called "genesis block". A week later, the first test transaction was conducted.
Satoshi, who mined the genesis block, received a reward of 50 bitcoins for it. And on the block, a message was embedded: "The Times 03/Jan/2009 Chancellor on brink of second bailout for banks."
This was certainly not a random headline. Many believe that this signified Satoshi's intent for the creation of Bitcoin. The words came from the headline of London newspaper The Times' story on the UK Chancellor's plan to pump more fiat money into the economy.
To this day, many people believe that Bitcoin is a real solution to counter the problems caused by the broken banking system that exists in the world.
What is Proof of Keys?
Proof of Keys is a movement spearheaded by prominent cryptocurrency investor Trace Mayer on the 3rd of January 2019, coinciding with Bitcoin's birthday. The movement is closely similar to a 'bank run,' where the community celebrates the genesis block by taking back possession of all their bitcoins from third-party custodians, proving that they have control over the ownership of their crypto portfolio.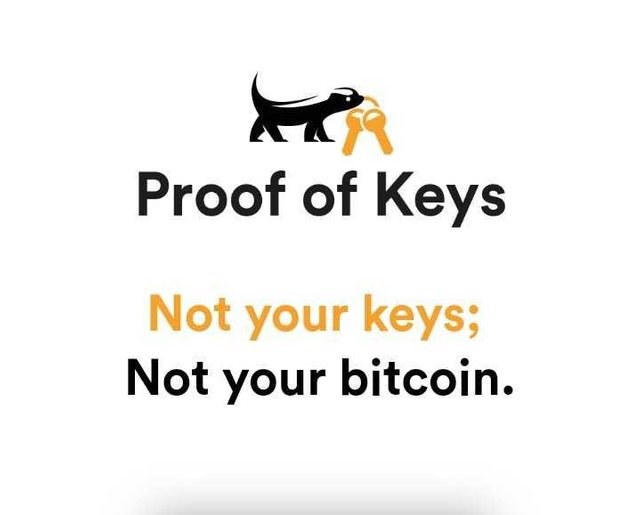 Hence, Mayer stated, "Not your keys; not your bitcoin." Proof of Keys, they say, is a declaration and re-declaration of a bitcoin holder's monetary sovereignty.
In a video Mayer released, he states that this is a test of trust for exchanges and corporations with whom we leave our bitcoins with. By simultaneously taking back their bitcoins and moving them to wallets they directly control, they can also expose the exchanges that function like fractional-reserve banks. Each year billions in crypto gets stolen from exchanges, either through hacks like Mt. Gox or exit scams like Quadriga. Proof of Keys helps to keep exchanges accountable and responsible for the funds of their users.
Today on 3 January, the movement is about to celebrate Bitcoin's 12th birthday once more.
Bitcoin Explodes Into 2021
Bitcoin has entered 2021 with a strong continuation of its unprecedented bull run in 2020. As of this writing, the crypto has recorded a new all-time high of over $33,000.
This has been a remarkable start for Bitcoin, which had probably shocked some of its naysayers, and perhaps more in the months ahead as the currency continues to rise.
We continue to find more reasons to buy into the idea of cryptocurrencies like Bitcoin. The global economy and the centralization of the financial world have proven one thing in the previous years: you will never be in full control of the money you hold if you don't manage it.
Ultimately, owning bitcoin is already a strong statement in support of a currency that the people truly control.
Happy birthday Bitcoin, thank you Satoshi Nakamoto for your gift, and long live the revolution!
If you're looking to have full control over your Bitcoin ownership, while retaining complete access to buying, selling and trading features on platforms such as ChangeHero, Changelly, BitPay, Binance DEX, UniSwap (and other WalletConnect decentralized exchanges), then there's a simple solution.
The CoolWallet S is a revolutionary hardware wallet whose own origin story started in 2014 and whose first-gen predecessor was the world's first Bluetooth mobile hardware wallet. It allows you keep your crypto in cold storage, completely offline, and in full control.
The CoolWallet's EAL5+ secure element, encrypted military-grade Bluetooth protocol, and several biometric security checks ensure that you can take it with you everywhere you go, without the need to use custodial solutions like centralized exchanges.
Learn more: Here are 10 reasons why you should get a CoolWallet in 2021!
Written by Werner Vermaak
---
Disclaimer: CoolBitX provides these blog posts for general educational purposes only. Information on this blog expresses the opinion of the author only. It does not constitute professional legal or financial advice and should not be considered as such.
The author or company may update the information on this article at any time without prior notice and do not guarantee the work to be up to date and accurate. To the best of our knowledge, the information provided here is factual at the time of writing.