Happy 2023! We've made it despite several crypto horrors in 2022. Today, 3 January, is one of the most significant days of the year for the crypto community. This day is annually celebrated as Bitcoin's unofficial birthday and in this spirit was also chosen by the Proof of Keys movement as a return to values for the whole industry. The 2023 edition is Bitcoin's 14th birthday and comes at another massive crossroads for the whole crypto industry.
Bitcoin and the overall crypto market are in the midst of another brutal Crypto Winter, possibly worse than even the 2018 bear market, caused by both global and industry events and things will likely get worse in 2023 before it starts to improve, with the next inflation-busting Bitcoin Halving something to look forward to in 2024.
Both crypto and traditional finance markets are currently suffering from the effects of a global macroeconomic policy of quantitative tightening first introduced in late 2021, at the peak of the bull run. Quantitative tightening basically means that central banks are raising interest rates and removing money from their economies in order to bring back under control record-high inflation, which was in turn caused by the 2020 and 2021 quantitative easing period, where trillions of dollars in stimulus money were injected into economies to keep them going during the pandemic.
These high-interest rates have resulted in a deep market retrace, which ultimately exposed over-leveraged centralized custodians like FTX, Celsius, Voyager, BlockFi, 3 Arrows Capital and turned once-respected figureheads like Sam Bankman-Fried into hated perceived criminals overnight as retail investors lost billions of dollars.
It's never been more important to fully understand what Bitcoin is, what problems it solves, and why we should self-custody it in a non-custodial wallet such as our pioneering hardware wallet CoolWallet Pro, which boasts an EAL6+ secure element and military-grade encrypted Bluetooth, or CoolWallet Hot, our award-winning and free-to-use CoolWallet App's new Web3 hot wallet module.
With investor sentiments in the doldrums and regulators at the gates looking to legislate crypto, in particular those that could be defined as securities, as well as DeFi, stablecoins, and NFTs, there's never been a more important time to once again revisit the origins of Bitcoin, what led to the creation of BTC by Satoshi Nakamoto and why is it so important?
If you're new to crypto, this is one origin story that you must know, as it was sparked by a global recession, and in 2023, we might very well experience another one. So learn from the past to prepare for the future. Read this article and then have a go at our Big Bitcoin Beginner Guide that covers all the basics you need. If you really want to go down the rabbit hole, red pill our Bitcoin Price History Guide mega article.
If you'd rather sit down in front of the TV with some popcorn instead, watch this award-winning documentary CRYPTOPIA: Bitcoin, Blockchains and The Future of the Internet by Torsten Hoffman on YouTube.
2008 Financial crisis
The 2008 financial crisis was the worst economic disaster since the Great Depression of 1929 and resulted in the Great Recession, which caused housing prices to plunge more than the famous 20th-century market crash. Scarily, it pales in comparison to the Covid-19 pandemic fallout.
The 2008 crisis was caused by the irresponsible behavior of U.S. banks taking unchecked risks, the U.S. housing bubble finally popping, which caused a chain reaction of destroying the values of securities connected with U.S. housing to crash, thereby taking giant financial institutions down with them such as Lehman Brothers and Fanny Mae. Sound familiar after 2021?
With several other banks destined to fail as well, the U.S. government finally stepped in and bailed them out. JP Morgan, Citigroup,Morgan Stanley, and Bank of America received a combined $75 billion in bailout money from U.S. authorities, despite being to blame for the financial crash, which resulted in the foreclosure of tens of thousands of U.S. residential properties and put the families who lived in them out on the streets.
Movies like Margin Call and The Big Short portray the cause and unfolding of this event very accurately and are worth a watch.
The great financial meltdown of 2008 brought home one truth for many: that the global financial system was broken. We were not in control of our money, but pawns in a larger game. Governments and other entities could also monitor our transactions and take away our freedom to manage our own assets at any given time.
For one mysterious person (or group?) called Satoshi Nakamoto and other cypherpunks, there had to be a better way to circumvent the influence of the defunct financial world today.
The result was Bitcoin: a decentralized digital asset that is not controlled by any central government or financial middleman. And beyond being just a safe haven for our assets, it has also shown us another truth: achieving monetary sovereignty is not impossible.
A Brief History of Bitcoin's Genesis
While the global economy was teetering from the global financial crisis in 2008, Satoshi Nakamoto, an anonymous online entity, introduced the first cryptocurrency to the world: Bitcoin.
On the 18th of August 2008, Bitcoin first surfaced on the face of the internet via the domain registration of bitcoin.org.
Then, on the 31st of October that same year, Satoshi sent a message entitled "Bitcoin P2P e-cash paper" to a cryptography mailing list. The message linked to the whitepaper named "Bitcoin: A Peer-to-Peer Electronic Cash System."
Satoshi's Vision for a Digital Currency
The Bitcoin white paper outlined Satoshi's plan for Bitcoin as a decentralized currency, which meant that there is no central authority to supervise and control the transactions made between its users.
To maintain the integrity of the transactions, Satoshi came up with a plan to launch a public ledger that is distributed to thousands of online devices. This ledger was meant to contain a record of all the transactions made within the network, which became known as the 'blockchain.'
The Genesis of Bitcoin: Block 0
On the 3rd of January 2009, at exactly 18:15:05 UTC, Bitcoin's first block was mined and blockchain history started, forever changing the face of digital assets. Bitcoin's first birth to the first block of the blockchain was called "genesis block". A week later, the first test transaction was conducted.
Satoshi, who mined the genesis block, received a reward of 50 bitcoins for it. And on the block, a message was embedded: "The Times 03/Jan/2009 Chancellor on brink of second bailout for banks."
This was certainly not a random headline. Many believe that this signified Satoshi's intent for the creation of Bitcoin. The words came from the headline of the London newspaper The Times' story on the UK Chancellor's plan to pump more fiat money into the economy.
To this day, many people believe that Bitcoin is a real solution to counter the problems caused by the broken banking system that exists in the world.
What is Proof of Keys?
Proof of Keys is a movement spearheaded by prominent cryptocurrency investor Trace Mayer on the 3rd of January 2019, coinciding with Bitcoin's birthday. The movement is closely similar to a 'bank run,' where the community celebrates the genesis block by taking back possession of all their bitcoins from third-party custodians, proving that they have control over the ownership of their crypto portfolio.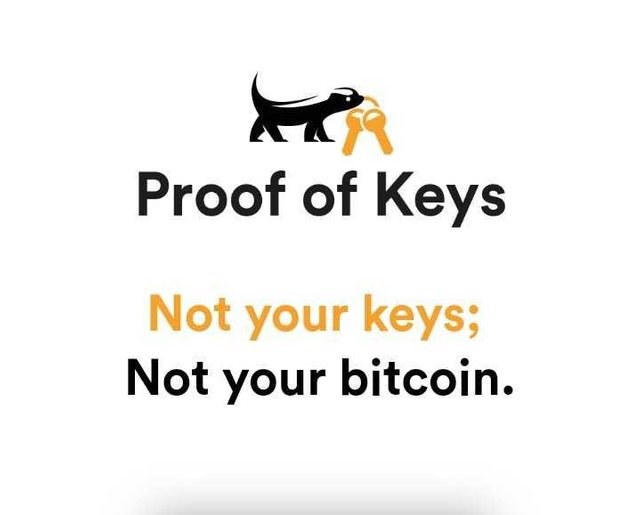 Hence, Mayer stated, "Not your keys; not your bitcoin." Proof of Keys, they say, is a declaration and re-declaration of a bitcoin holder's monetary sovereignty.
In a video Mayer released, he stated that this is a test of trust for exchanges and corporations with whom we leave our bitcoins with. By simultaneously taking back their bitcoins and moving them to wallets they directly control, they can also expose the exchanges that function like fractional-reserve banks. Each year billions in crypto get stolen from exchanges, either through hacks like Mt. Gox or exit scams like Quadriga. Proof of Keys helps to keep exchanges accountable and responsible for the funds of their users. Following the FTX collapse, exchanges like Binance have started to introduce the Proof of Reserves measure, but it's not completely transparent as it doesn't reflect possible liabilities on their balance sheets.
Today on 3 January, the movement is about to celebrate Bitcoin's 14th birthday once more.
Bitcoin Limps into 2023 amidst high inflation and looming recession
Bitcoin has entered 2023 at under $17,000 per BTC, a far way off from its 2020 all-time high price of just over $69,000.
Despite this, if you look at traditional markets you will continue to find more reasons to buy into the idea of cryptocurrencies like Bitcoin. The global economy and the centralization of the financial world have proven one thing in the previous years: you will never be in full control of the money you hold if you don't manage it. With central bank digital currencies set to roll out in 2023 as well, the fight for the digital money standard of the future will commence in full.
Ultimately, owning bitcoin is already a strong statement in support of a currency that the people truly control.
Happy birthday Bitcoin, thank you Satoshi Nakamoto for your gift, and long live the revolution!
If you're looking to have full control over your Bitcoin ownership, look no further than CoolWallet.